Electrical & Electronics Engineering
---
About Department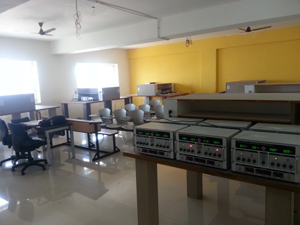 The Electrical and Electronics Engineering Department was established in the year 2001 with an intake of 60 students for the Under Graduate program (BE), a Post Graduate program (M.Tech) in Power Electronics course was started in 2008 with an intake of 18 students. The VTU Research Centre of the department was started during 2014 and has seen good progress as many scholars have registered for Ph.D. The Electrical and Electronics Engineering Department was accredited by "NATIONAL BOARD OF ACCREDITATION (NBA)" for the first time in the year 2007and the Accreditation was renewed in the year 2016. The Department of Electrical and Electronics Engineering got NBA Accreditation for the Third time for the duration of three years from 2018 to 2021. The Department is also accredited by NAAC.
Vision:
Equipping Electrical and Electronics Engineering professionals in the cutting edge technologies of Electrical Science to meet the needs of the ever-changing world.
Mission
M1: To learn and experiment most recent innovations in Electrical and Electronics Engineering related to industry.
M2: To provide state of art facilities for the continuous improvement in teaching-learning process and research activities in multidisciplinary areas.
M3: To emphasis ethics, leadership, entrepreneurship skilled Electrical and Electronics Engineers.
PROGRAMME EDUCATIONAL OBJECTIVES (PEOs)

Graduate of the program will                                     
Be able to apply the fundamental knowledge of mathematics, science, electrical and electronics engineering to analyze and solve the complex problem in electrical, electronics and allied interdisciplinary areas.                                                                                                                          
Possess good leadership skills, function ethically in multidisciplinary areas to develop sustainable solutions for global, environmental and social issues.   
Be able to inculcate lifelong learning to maintain and enhance professional skills.
PROGRAM SPECIFIC OUTCOMES (PSOs)
Apply fundamental knowledge to identify, formulate, design and investigate various  problems of electrical and electronic circuits, power electronics, control systems and power systems.
Apply modern software tools for design, simulation and analysis of electrical systems to engage in life- long learning and to successfully adapt in multi-disciplinary environments.
 Solve ethically and professionally various Electrical Engineering problems in societal and environmental context and communicate effectively by applying project management techniques to complex engineering problems.