Mechanical Engineering
---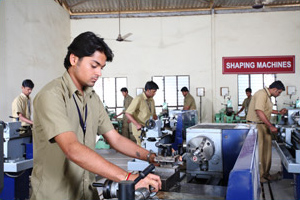 About Department
The department of Mechanical engineering was established in the year 2002 with an annual intake of 60 students in under-graduation program and has grown leaps and bounds since inception. The annual intake valves increased to 120 students in the year 2010.A well-planned block with excellent infrastructural facilities. The present student population in these department is 200 currently, the department is under the eminent guidance of Dr. Madhu Sudana Reddy G.
The department of mechanical engineering has state-of-the-art laboratories for providing the hands-on experience to the students. It has excellent computing facilities and resources in terms of both hardware and software. The department has excellent library facilities.

The department of mechanical engineering organizes conferences, workshops and faculty development programs periodically. These activities will greatly benefit the faculty and student to comprehend the essence of teaching and learning.

About the program
Mechanical engineering is the discipline that applies the engineering physics, engineering mathematics and materials science principles to design, analysis, manufacture and maintain mechanical systems. It is core branch of engineering disciplines. Mechanical engineering is popular as ever green and royal branch.

The mechanical engineering field requires an understanding the core areas including machines dynamics thermodynamics, material science, structural analysis, and design and development of machinery products. In addition to these core principles, mechanical engineers used tools such as computer aided design (CAD), finite element analysis (FEA), and product life cycle management to design and analyze manufacturing plants, industrial equipment's and machinery, heating and cooling systems, transport systems, aircraft, water crafts, robotics, medical devices, weapons etc.

VISION
To become a center of excellence providing state of the art engineering education in mechanical
Engineering and making individual to be capable of building nation in the new millennium.

MISSION
To provide an excellent teaching and learning process for the students to meet the needs and standards of the current industries and higher learning process.
To promote research and development activity in the recent emerging trends of the mechanical engineering department.
To provide the students with good communication skill, lifelong learning, team spirit and leadership qualities to face the current society.
PROGRAMME EDUCATIONAL OBJECTIVES (PEOs)
To apply the fundamentals of science, mathematics & engineering concepts to design and develop the mechanical model for the application in the industries.
To provide students with high standard of communication skills, good leadership qualities, entrepreneur skills and ethical values to mold them into, responsible citizens and competent professionals in the current competitive market.
To promote student awareness and commitment through lifelong learning process & prepare them for successful careers in the current research, industries, and institutions of higher learning.