Computer Science and Engineering
---
About Department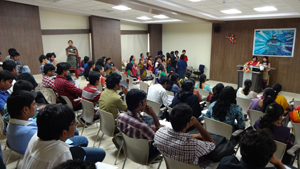 The department of Computer Science and Engineering was started in the year 2000 with an intake of 60, in the year 2008 the intake was increased 60 to 120, at present the intake is increased to 180 for the four years of Under Graduate Program B.E (CSE). The department also has a VTU recognized R&D center. The UG programme of the department was accredited by NBA for the first time in the year 2007 for 3 years and it was re-accredited in the year 2016 for 3 years and renewed in 2018 for 3 years (2018-2021) and also it got extended for a year (June 2022).

The department has highly qualified teaching faculty members with various specializations in Computer Science and Engineering to provide value-based training and skills needed for the students in the software industry. The goal of the department is to provide students with a habitat that helps them to go on to top graduate programs and careers in cutting-edge companies. The department has well equipped state-of-the-art infrastructure facilities to carryout various real time projects, research and consultancy activities in recent technologies. The department has undertaken many research/consultancy projects funded both by multinationals and government agencies. The department has a good number of research publications in various reputed journals and patents. The department has an excellent placement track record in various multinational companies' offers with high salary packages.

VISION
To establish the department as a renowned center of excellence in the area of scientific education, research with industrial guidance; and exploration of the latest advances in the rapidly changing field of computer science.
MISSION
1.To produce best Computer science Professionals with intellectual skills.
2. To provide a vibrant Ambience that promotes Creativity, Technology Competent and Innovation for the new Era.
3. To Pursue Professional Excellence with Ethical and Moral Values to sustain in the highly demanding world.
Programme Educational Objectives (PEOs)
To create graduates equipped with life-long learning skills and have a successful professional career in IT industry.
To prepare graduates to pursue higher education and get inclined towards research & development in computer science engineering.
To provide adequate training and opportunities, with exposure to emerging cutting-edge technologies and to work in teams on multidisciplinary projects with effective communication skills and leadership qualities.
Programme Specific Objectives (PSOs)
To design efficient algorithms and develop effective code for real-time computations.
To apply software engineering principles in developing optimal software solutions.\